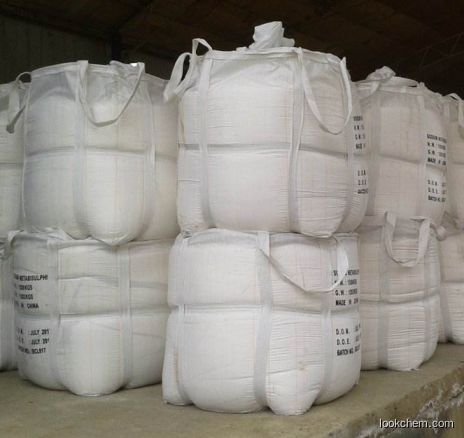 Keywords
Supply Sodium metabisulfite
Sodium metabisulfite manufacturer
Sodium metabisulfite good supplier
Quick Details
ProName: Supply Sodium metabisulfite manufactur...
CasNo: 7681-57-4
Molecular Formula: Na2S2O5
Appearance: White or slightly yellowish powder
Application: a):Bleaching agent for textile fibres,...
DeliveryTime: 3 working days after your order
PackAge: 25kg.50kg.500kg etc. we can be accordi...
Port: Huangshi
ProductionCapacity: 400000 Metric Ton/Year
Purity: 96.5~98%
Storage: Sealed in HDPE bag
Transportation: by sea
LimitNum: 25 Metric Ton
Grade: Industrial Grade
Na2S2O5, %≥: 96.5
Fe, % ≤: 0.003
Insolubles, % ≤: 0.05
As, %≤: 0.0001
Moisture, %≤: 0.03
Superiority
We supply Sodium metabisulfite,we are manufacturer which is a good supplier in China.
Discription:
Sodium Metabisulphite/ Sodium metabisulfite
SMBS 98% CAS No.:7681-57-4
PRODUCT DESCRIPTION
Name: Sodium Metabisulphite/ Sodium metabisulfite CAS No.:7681-57-4
Appearance: white
Grade: Food Grade/Industry Grade
Type: Emulsifiers, Enzyme Preparations, Flavoring
Molecular formula: Na2S2O5
CAS No. : 7681-57-4
EINECS : 231-673-0
HS Code: 28311020
Certificate: SGS/Health certificate/ISO certificate
Sodium Metabisulphite/ Sodium metabisulfite CAS No.:7681-57-4 APPLICATION
Company Information
Huangshi Jiake Environmental Protection Technology Co., Ltd. has a building area of more than 150,000 square meters. It is a professional manufacturer of high-purity industrial-grade anhydrous sodium sulfite and sodium metabisulfite. We have annual productive capacities of 400,000 tons of sodium metabisulfite with purity 96.5~98%.
We have experienced technicians, leading facilities, a modern management system and an excellent after-sale service system. We use the Mechanical Vapor Recompression technology for production and Automachine for package. Our products is clean and pure, the quality is over food grade standard. Output of sodium metabisulfite covers over 18 provinces in china market,our production capacity is leading globally.
Details
We supply Sodium metabisulfite,we are manufacturer which is a good supplier in China.
Sodium metabisulfite Basic information
Product Name:
Sodium metabisulfite
Synonyms:
disodiummetabisulfite;disodiumpyrosulphite;fertisilo;metabisulfitedesodium;Sodiummetabisufite;SodiumMetabisulphiteAcs;SodiumMetabisulphiteExtraPure;SodiumMetabisulfite(Tech/FoodGrade)
CAS:
7681-57-4
MF:
2Na.O5S2
MW:
190.11
EINECS:
231-673-0
Product Categories:
INORGANIC & ORGANIC CHEMICALS;Inorganics;inhibitor and freshen agent
Mol File:
7681-57-4.mol
Sodium metabisulfite Usage And Synthesis
Description
Sodium metabisulfite (chemical formula: Na2S2O5) appears as a white crystalline or powder solid with a slight sulfur odor. It is toxic upon inhalation and can strongly irritate skin and tissue. It can be decomposed to release toxic oxide fumes of sulfur and sodium upon high temperature. It can be mixed with water to form a corrosive acid. It is generally used as disinfectant, antioxidant, and preservative agent as well as a laboratory reagent. As a kind of food additive, it can be used as a preservative and antioxidant in food. It can also be applied to the wine and beer making. Moreover, it can be used to sanitize the equipment of homebrew and winemaking as a cleaning agent. It also have various kinds of other applications, e.g. being applied to photography, as an excipients in some tablets, for water treatment, as a source of SO2 in wine, as a bactericide and as a bleaching reagent as well as reducing agent. It can be manufactured through the evaporation of a sodium bisulfite which has been saturated with sulfur dioxide. It should be warned that sodium metabisulfite has certain acute effects on the respiratory system, eyes and skin. In severe case, it can cause breathing difficulty and even pulmonary damage which finally leads to death. Therefore, effective protective measures and attention should be taken during the operation.
Usage
Sodium metabisulfite (SMBS, Sodium disulfite) is a white, granular solid sodium salt. an inorganic compound made up of sodium, sulfur, and oxygen, and used in many industries:

in the pulp and paper industry, in the photographic industry and in the various other industries as a bleach or dechlorinator.
Food Grade sodium metabisulfite may be used as a food preservative. It is also commonly added to various food products and wines as a preservative.
Sodium metabisulfite can also be used in the manufacture of other chemicals, Used in production of cleaning agents, detergents, and soaps.
It also acts as a corrosion inhibitor in oil and gas industry, as a bleaching agent in the production of coconut cream, as the source of sulfur dioxide and in the destruction of cyanide in commercial gold cyanidation processes.
Gold mining industry: It is utilized in the precipitation of gold from auric acid as well as in the waste water treatment to remove hexavaent chromium as trivalent chromium by precipitation after reduction.
Preservative in photo developer solutions, it is used in photography.
Oxygen scavenge:it plays as an oxygen scavenger to eliminate the dissolved oxygen in wastewater and in pipes.
Sodium metabisulfite may be used as an initiator during the cross-linking polymerization of polybutadiene in the cores of the vesicle membranes.
It may be added as an antioxidant during the preparation of stock solutions of 6-hydroxydopamine in various studies.
Dechlorination in municipal wastewater, pulp & paper, power, and textile water treatment plants.

Preparation
manufactures sodium metabisulfite by reacting sulfur dioxide with sodium carbonate (soda ash), purifying and drying to form crystals or powder.
Na2CO3 + 2SO2→Na2S2O5 + CO2
Product Specification

| | |
| --- | --- |
| Sodium Metabisulfite, wt% | 98.7% min. |
| Assay as SO2 | 66.5 min. |
| Insolubles, wt% | ≤ 0.005 |
| Chloride, wt% | ≤ 0.05 |
| Thiosulfate, wt% | ≤ 0.05 |
| Arsenic, ppm | ≤ 1.0 |
| Heavy metals, ppm | ≤ 10.0 |
| Iron as (Fe), ppm | ≤ 2.0 |
| Selenium, ppm | ≤ 5.0 |
| Lead as (Pb), ppm | ≤ 2.0 |

Health Hazard
Sodium metabisulphite is currently listed in Annex III Part B of Directive 95/2/EC as an authorised food additive. As such food labelling is required where sulphite residues exceed 10 mg/kg (ppm). This is labelled E223 with maximum permitted residues in crustacean products set at 150 mg/kg. However it is now accepted that sulphites, when present in foodstuffs, can cause allergic reactions in vulnerable persons and can constitute a danger to health (Collins-Williams, 1983). Metabisulphite is regarded as one causative agent of asthma attacks (Gunnison & Jacobsen, 1987). In accordance with this, EU Directive 2003/89/EC will make allergen labelling a requirement for all food stuffs produced in the European Community, which have been treated with sodium metabisulphite.
Sodium metabisulfite typically found in consumer products should pose little a risk of symptoms due to skin or inhalation exposure since sodium metabisulfite is used in very low concentrations. Sodium metabisulfite can produce the following adverse health affects:

Contact - Skin exposures can cause symptoms ranging from minor skin irritation or itching to redness and swelling. Eye exposure to sodium metabisulfite may result in redness, tearing or moderate eye irritation.
Inhalation - The inhalation of sodium metabisulfite dusts can cause nose and throat irritation or coughing. Repeated or prolonged exposures may cause sore throat or nosebleeds. Inhalation may also cause severe respiratory reactions and aggravate asthma or other breathing diseases.
Ingestion - The ingestion of sodium metabisulfite may cause irritation of the mouth and throat, nausea, vomiting and diarrhea.
Other Effects - The International Agency for Research on Cancer (IARC) has not classified sodium metabisulfite as a carcinogen (cancer causing).