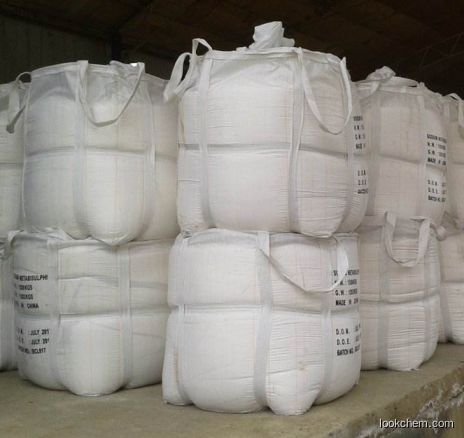 High purity and Best price Sodium pyrosulfite in bulk supply CAS NO.7681-57-4
MSDS/COA Download

Min.Order: 25 Metric Ton
Payment Terms: L/C,T/T,Western Union,MoneyGram

Keywords
High purity Sodium pyrosulfite
Sodium pyrosulfite in bulk supply
Best price Sodium pyrosulfite
Quick Details
ProName: High purity and Best price Sodium pyro...
CasNo: 7681-57-4
Molecular Formula: Na2S2O5
Appearance: White or slightly yellowish powder
Application: a):Bleaching agent for textile fibres,...
DeliveryTime: 3 working days after your order
PackAge: 25kg.50kg.500kg etc. we can be accordi...
Port: Huangshi
ProductionCapacity: 400000 Metric Ton/Year
Purity: 96.5~98%
Storage: Sealed in HDPE bag
Transportation: by sea
LimitNum: 25 Metric Ton
Grade: Industrial Grade
Na2S2O5, %≥: 96.5
Fe, % ≤: 0.003
Insolubles, % ≤: 0.05
As, %≤: 0.0001
Moisture, %≤: 0.03
Superiority
We have High purity and Best price Sodium pyrosulfite in bulk supply
Discription:
Molecular Formula :Na2S2O5
Molecule Weight :190.12
CAS NO .:7681-57-4
Appearance :White Free white crystalline powder
Property: Dechlorination Sodium Metabisulfite is:
white or light yellow crystal powder, a strong smell of sulfur dioxide,relative density is 1.4, easy to dissolve in water
and glycerin, water solution.
It has acidity,and its solubility will become large while raising the temperature and is less to dissolve in ethanol.
Appearance: Pure White Crystalline Powder .
Application:
(1) Food Grade: Bleach agent (e.g. candies, cake, bamboo shoots, etc); Loose agent (e.g. bread, cracker etc);
Antiseptic and germicide (e.g. fruit juice, tinned food, brews, the cereals food is defended storage etc);
Inhibitor and freshen agent (e.g. day lily, seafood, fruit and vegetable etc).
Store the product in a cool and dry place, prevent from direct sunlight ,water and moisture, avoid contact with strong acid,oxidants or poisonous substances. Exposure to moisture will make it oxidze easily to sodium sulphate.Do not store it for long time.
Company Information
Huangshi Jiake Environmental Protection Technology Co., Ltd. has a building area of more than 150,000 square meters. It is a professional manufacturer of high-purity industrial-grade anhydrous sodium sulfite and sodium metabisulfite. We have annual productive capacities of 400,000 tons of sodium metabisulfite with purity 96.5~98%.
We have experienced technicians, leading facilities, a modern management system and an excellent after-sale service system. We use the Mechanical Vapor Recompression technology for production and Automachine for package. Our products is clean and pure, the quality is over food grade standard. Output of sodium metabisulfite covers over 18 provinces in china market,our production capacity is leading globally.
Details
We have High purity and Best price Sodium pyrosulfite in bulk supply
Product Name: Sodium metabisulfite
CAS No.: 7681-57-4

H. S Code: 2831102000

Molecular weight: 190.10

Appearance: White crystalline powder, free from extraneous matter with a faint odour of sulphur dioxide gass.

Package: 25kg/1000kg net in plastic woven bag with PE liner.
Sodium metabisulfite is a white or yellow crystalline powder or a small crystal with a strong SO2 odor. The specific gravity is 1.4. It dissolves in water and the aqueous solution is acidic. When it comes into contact with strong acid, SO2 is released and the corresponding salt is generated. If it is left in the air for a long time, it is oxidized. As Na2S2O6, so the product can not exist for a long time. Above 150 degrees Celsius, SO2 is decomposed.
Synonyms: disodiummetabisulfite; disodiumpyrosulphite; fertisilo; metabisulfitedesodium; Sodiummetabisufite; sodiummetabisulfite(na2-s2o5); sodiumpyrosulfite(na2s2o5); Sodium dissulfite; Sodium disulphite; Sodium pyrosulphite

Application:
Used as a food preservative. It is a slight hazy solution free from inappropriate impurities. These sulphites are available in white and faint cream crystalline free flowing powder and are widely used in photographic chemical and preservative chemical.Used in medicine when producing chloroform,solasulfone and methnylal;used as coagulant in rubber industry; used as dechlorided agent or assistants in printing and dyeing industry; used to improve leather properties in leather industry; used as developing agent in photosensitivity industry; used when producing hydroxyl geranial, hydrochloric hydroxylamine in chemical industry; used as bleaching agent, antiseptics, antioxidant, ect.in food industry.
Antioxidant, water treatment, preservative, decolorizer, reducing agent, rubber coagulator, mineral separation, developing agent, sewage treating agent