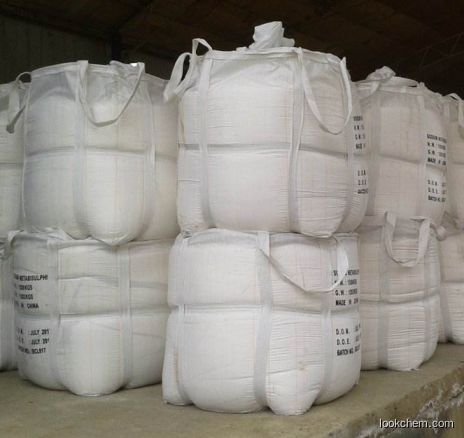 Best price of Sodium metabisulfite in stock and in bulk supply CAS NO.7681-57-4
MSDS/COA Download

FOB Price: USD: 450.00-450.00 /Metric Ton Get Latest Price
Min.Order: 25 Metric Ton
Payment Terms: L/C,T/T,Western Union,MoneyGram
Available Specifications:

96%(24-2000)Metric Ton

Keywords
Sodium metabisulfite in bulk supply
Best price Sodium metabisulfite
Sodium metabisulfite in stock
Quick Details
ProName: Best price of Sodium metabisulfite in ...
CasNo: 7681-57-4
Molecular Formula: Na2S2O5
Appearance: White or slightly yellowish powder
Application: a):Bleaching agent for textile fibres,...
DeliveryTime: 3 working days after your order
PackAge: 25kg.50kg.500kg etc. we can be accordi...
Port: Huangshi
ProductionCapacity: 400000 Metric Ton/Year
Purity: 96.5~98%
Storage: Sealed in HDPE bag
Transportation: by sea
LimitNum: 25 Metric Ton
Grade: Industrial Grade
Na2S2O5, %≥: 96.5
Fe, % ≤: 0.003
Insolubles, % ≤: 0.05
As, %≤: 0.0001
Moisture, %≤: 0.03
Superiority
Best price of Sodium metabisulfite in stock and in bulk supply
Discription:
Product Name:
Sodium metabisulfite
Synonyms:
disodiummetabisulfite;disodiumpyrosulphite;fertisilo;metabisulfitedesodium;Sodiummetabisufite;SodiumMetabisulphiteAcs;SodiumMetabisulphiteExtraPure;SodiumMetabisulfite(Tech/FoodGrade)
CAS:
7681-57-4
MF:
2Na.O5S2
MW:
190.11
EINECS:
231-673-0
Product Categories:
INORGANIC & ORGANIC CHEMICALS;Inorganics;inhibitor and freshen agent
Mol File:
7681-57-4.mol
Company Information
Huangshi Jiake Environmental Protection Technology Co., Ltd. has a building area of more than 150,000 square meters. It is a professional manufacturer of high-purity industrial-grade anhydrous sodium sulfite and sodium metabisulfite. We have annual productive capacities of 400,000 tons of sodium metabisulfite with purity 96.5~98%.
We have experienced technicians, leading facilities, a modern management system and an excellent after-sale service system. We use the Mechanical Vapor Recompression technology for production and Automachine for package. Our products is clean and pure, the quality is over food grade standard. Output of sodium metabisulfite covers over 18 provinces in china market,our production capacity is leading globally.
Details
Best price of Sodium metabisulfite in stock and in bulk supply
Sodium metabisulfite

CAS No.:
7681-57-4
Synonyms:

Sodium pyrosulfite;
Natrium pyrosulfit;
Campden Tablets;
Disodium disulfite;
Fertisilo;
Natrii disulfis;
Natriumbisulfit;
Sodium disulfite;

Formula:
Na2O5S2
Exact Mass:
189.89800
Molecular Weight:
190.10700
PSA:
124.92000
LogP:
0.27220
Sodium metabisulfite or sodium pyrosulfite (IUPAC spelling; Br. E. sodium metabisulphite or sodium pyrosulphite) is an inorganic compound of chemical formula Na2S2O5. The substance is sometimes referred to as disodium (metabisulfite). It is used as a disinfectant, antioxidant and preservative agent.
Sodium metabisulfite Usage And Synthesis
Decription
Sodium metabisulfite (chemical formula: Na2S2O5) appears as a white crystalline or powder solid with a slight sulfur odor. It is toxic upon inhalation and can strongly irritate skin and tissue. It can be decomposed to release toxic oxide fumes of sulfur and sodium upon high temperature. It can be mixed with water to form a corrosive acid. It is generally used as disinfectant, antioxidant, and preservative agent as well as a laboratory reagent. As a kind of food additive, it can be used as a preservative and antioxidant in food. It can also be applied to the wine and beer making. Moreover, it can be used to sanitize the equipment of homebrew and winemaking as a cleaning agent. It also have various kinds of other applications, e.g. being applied to photography, as an excipients in some tablets, for water treatment, as a source of SO2 in wine, as a bactericide and as a bleaching reagent as well as reducing agent. It can be manufactured through the evaporation of a sodium bisulfite which has been saturated with sulfur dioxide. It should be warned that sodium metabisulfite has certain acute effects on the respiratory system, eyes and skin. In severe case, it can cause breathing difficulty and even pulmonary damage which finally leads to death. Therefore, effective protective measures and attention should be taken during the operation.
Usage
Sodium metabisulfite (SMBS, Sodium disulfite) is a white, granular solid sodium salt. an inorganic compound made up of sodium, sulfur, and oxygen, and used in many industries:

in the pulp and paper industry, in the photographic industry and in the various other industries as a bleach or dechlorinator.
Food Grade sodium metabisulfite may be used as a food preservative. It is also commonly added to various food products and wines as a preservative.
Sodium metabisulfite can also be used in the manufacture of other chemicals, Used in production of cleaning agents, detergents, and soaps.
It also acts as a corrosion inhibitor in oil and gas industry, as a bleaching agent in the production of coconut cream, as the source of sulfur dioxide and in the destruction of cyanide in commercial gold cyanidation processes.
Gold mining industry: It is utilized in the precipitation of gold from auric acid as well as in the waste water treatment to remove hexavaent chromium as trivalent chromium by precipitation after reduction.
Preservative in photo developer solutions, it is used in photography.
Oxygen scavenge:it plays as an oxygen scavenger to eliminate the dissolved oxygen in wastewater and in pipes.
Sodium metabisulfite may be used as an initiator during the cross-linking polymerization of polybutadiene in the cores of the vesicle membranes.
It may be added as an antioxidant during the preparation of stock solutions of 6-hydroxydopamine in various studies.
Dechlorination in municipal wastewater, pulp & paper, power, and textile water treatment plants.
Properties

Appearance & Physical State:
white crystalline powder
Density:
1.48
Melting Point:
150ºC
Water Solubility:
540 g/L (20 ºC)
Stability:
Stable. Incompatible with strong oxidizing agents, strong acids. Contact with strong acids releases a poisonous gas. May be moisture and air sensitive.
Storage Condition:
Store at RT.
Safety Info

Symbol:

GHS05
GHS07
Sign:
Danger
hazard declaration:
H302; H318
hazard declaration add:
Contact with acids liberates toxic gas.
waring notice:
P280; P301 + P312 + P330; P305 + P351 + P338 + P310
RTECS:
UX8225000
Safety Statements:
S26-S39-S46
HS Code:
2832100000
Packing Group:
III
WGK Germany:
1
RIDADR:
UN 2693
Risk Statements:
R22; R31; R41
Hazard Codes:
Xn